Rooflights & Access Systems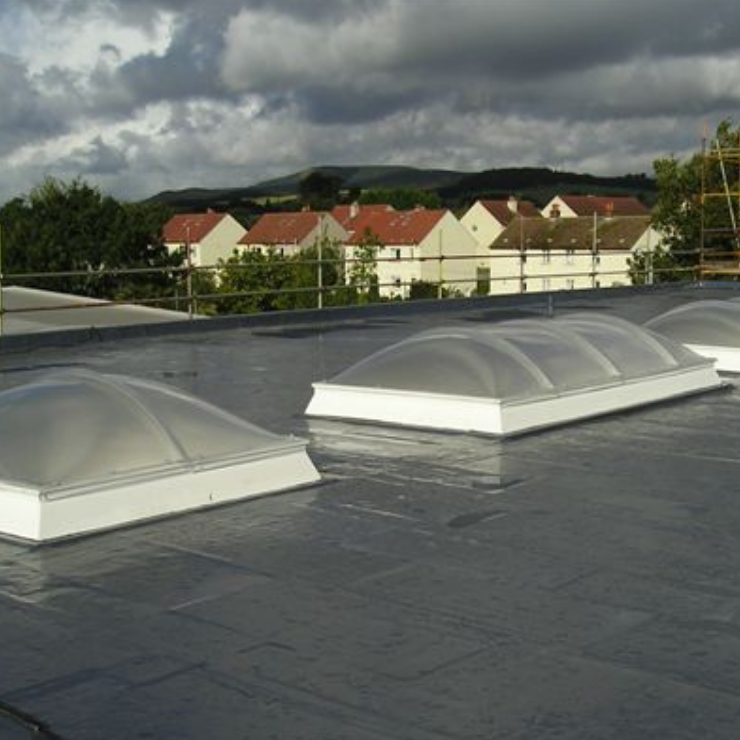 Our rooflights are easy to install, rigorously tested by independent experts, compliant with all current building regulations and legislation, and tried and trusted by professionals.
Modular Rooflights
High quality thermoformed rooflights designed to make optimum use of natural light. Available in a wide range of sizes, shapes and glazing options they meet all of the specifiers' and clients' requirements.
-Polycarbonate Domes
Polycarbonate domes are thermoformed from polycarbonate sheet and available in single, double and triple skin. Polycarbonate material is virtually unbreakable, with an impact strength up to 250 times greater than glass.
-Glazed Rooflights
High-quality, aesthetically pleasing prefabricated flat glass rooflights. Available in a wide range of sizes or made to measure, glazed flat rooflights provide a clean, minimalistic finish inside and out.
-Lanterns/Pyramids
Lanterns/Pyramid rooflights are custom-made continuous rooflights which have a distinctive pyramid shape.
-Canopies
ICB's canopies are manufactured in various different designs, suitable to the client's individual taste - pitched, curved, domed and pyramid. They can be glazed in either polycarbonate or glass depending on requirements.
Bespoke Rooflights
Our bespoke rooflights are designed and built specifically to customer's precise measurements. Additional ventilation and glazing options are also available. Designed specifically to address thermal, sound and light performance, they exceed building regulations and are engineered to comply with severe weather ratings.
Roof Access Hatches
Roof Access Hatches are designed to allow access to and from roof areas. They can form part of a fire escape route, be used for accessing roof mounted plant, equipment and for other maintenance tasks. They are available with either external or internal locking and can incorporate electric, manual or assisted opening mechanisms.
Features
Range of models – barrel vaults, canopies, domes, pyramids, monopitch, monovision, special glazing
Single, double or triple glazed
Industrial or domestic
Polycarbonate or glass
Standard sizes or bespoke
Manual or electronic opening
Supplied to site fully assembled ready to install
Manufactured to: BS EN 6375-1:2009 Weather Tightness; BS EN 1026 / 12207:2000 Air Permeability; BS EN
1873 / 12208:2000 Water Tightness; BS EN 12210:2000 Wind Resistance; BS EN 1991-1 Snow Load; BS EN ISO 140 Acoustic; BS EN 1627-1630 Security
Benefits
Simple & cost-effective way to allow natural light into the building
Double up as roof access