Back
Biodiverse Systems
BIO-DIVERSE ROOFS CONSIST OF A GROWING SUBSTRATE LAID IN VARYING DEPTHS TO ENCOURAGE A MULTITUDE OF DIFFERENT PLANT SPECIES TO GROW. THESE ROOFS CAN BE PLANTED OR LEFT TO DEVELOP NATURALLY OVER TIME AS LOCAL SEEDS ARE EITHER BLOWN OR DROPPED ONTO THE ROOF BY BIRDS. IN ADDITION, WE CAN INCLUDE WOODPILES, STONES AND BOULDERS, BIRD BOXES, BAT BOXES AND BUG HOTELS TO CREATE HABITATS ENCOURAGING AS MUCH WILDLIFE AS POSSIBLE TO UTILISE THE SPACE. AN EVAGREEN ROOF IS OFTEN THE BEST OPPORTUNITY PRESENTED TO ARCHITECTS AND CONTRACTORS TO REPLICATE AND ENHANCE THE BIODIVERSITY THAT WOULD BE ON-SITE IN THE ABSENCE OF DEVELOPMENT.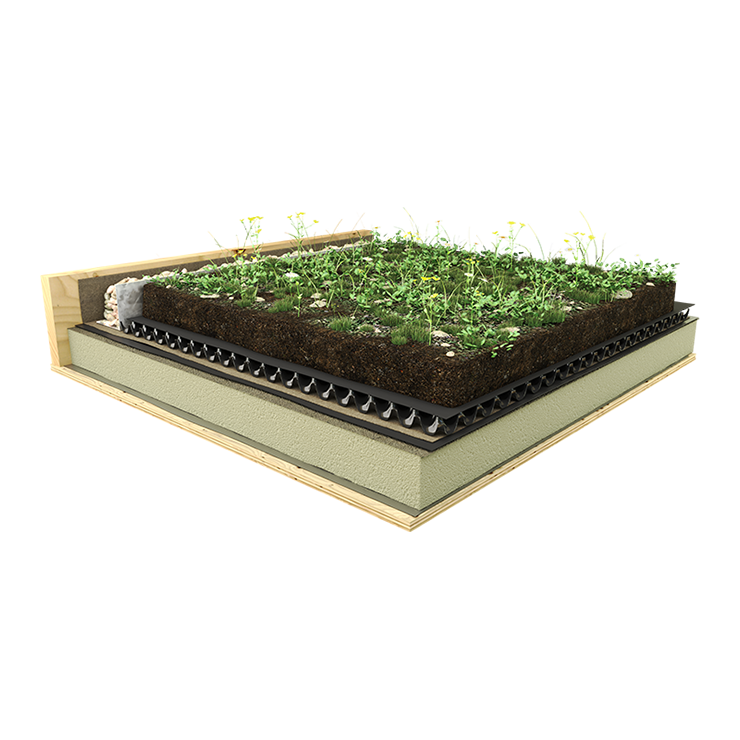 Mouse over each layer
for more information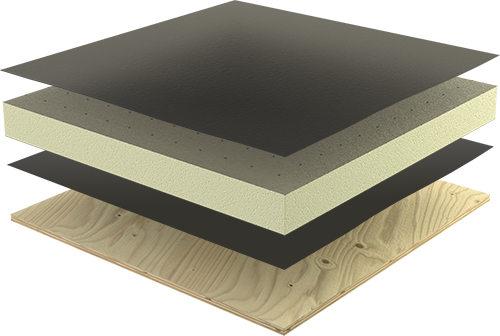 ICB Waterproofing System

PL300 Protection Fleece

EvaDrain 25 Drainage Board

FL150 Filter Fleece

Self Vegetation / Planting / Habitats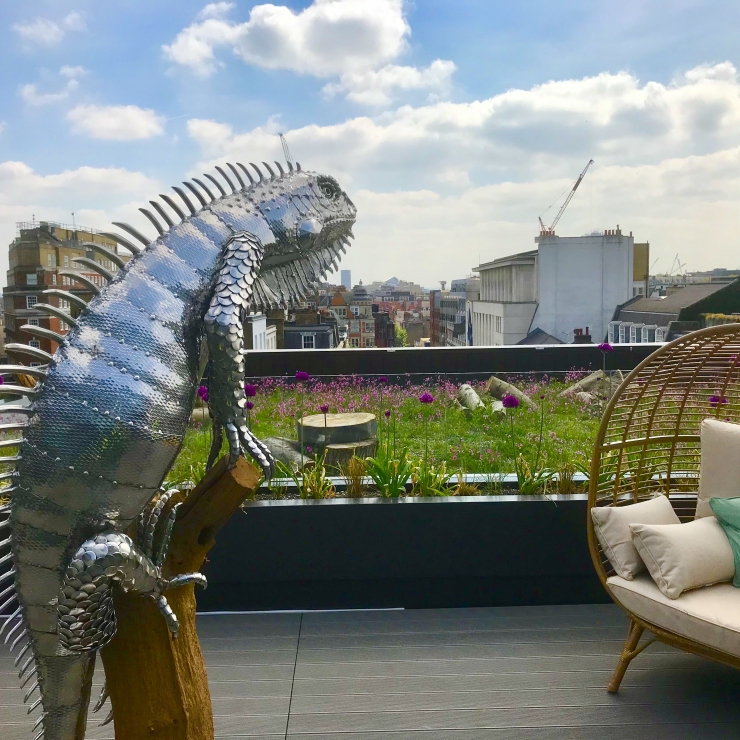 Bio-diverse roofs consist of a growing substrate laid in varying depths to encourage a multitude of different plant species to grow. These roofs can be planted or left to develop naturally over time as local seeds are either blown or dropped onto the roof by birds. In addition, we can include woodpiles, stones and boulders, bird boxes, bat boxes and bug hotels to create habitats encouraging as much wildlife as possible to utilise the space. An EvaGreen roof is often the best opportunity presented to architects and contractors to replicate and enhance the biodiversity that would be on-site in the absence of development.
TYPICAL WEIGHTS/LOADING (saturated)
-70-200mm substrate and have a saturated weight of greater than 180kg per sqm.
VEGETATION:
Sedums
Grasses
Herbs
Wildflowers
Contributes to preserving biodiversity in the urban environment
Generates energy from the roof space
Can be combined with the blue roof
Can increase the efficiency of a Solar PV install
Can't find exactly what you're looking for? No problem.
Speak to one of our Green Roof specialists