Flat Roof Mounting Solutions
Solar photovoltaic (PV) mounting solutions are fundamental elements of any solar energy system, offering robust and reliable platforms for the positioning and orientation of solar panels. They facilitate optimal energy generation by aligning the panels towards the sun to capture maximum sunlight. Mounting solutions vary greatly in design and materials, depending on the installation type.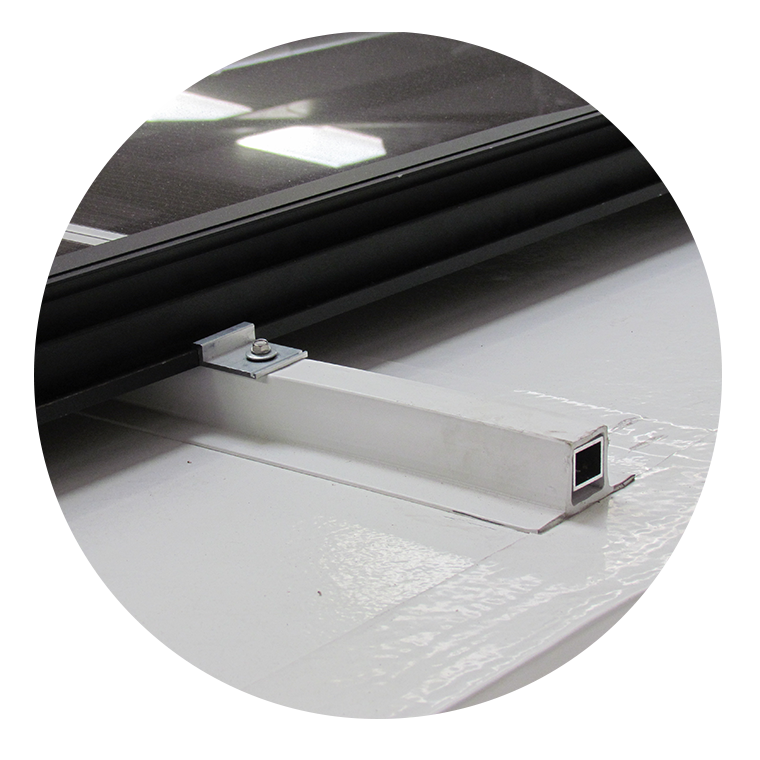 ICB's Solafix Profile
THE ULTRA-LIGHT ICB - SOLAFIX FIXING SYSTEM MAKES IT POSSIBLE TO ATTACH SOLAR PANELS ONTO NEW OR EXISTING EVA ROOFS WITHOUT THE NEED FOR EXTRA BALLAST OR PERFORATION OF THE ROOFING MEMBRANE.
The development of the system has taken into account the abilities of EVA & PVC roofing membranes to have compatible elements hot air welded directly to them. The method will allow a variety of different solar panels to be installed quickly and cost-effectively.
The system functions as a base for the attachment of an aluminium sub-structure. The aluminium framework provides the most efficient angle relative to the sun for the PV–panel. The only additional weight that needs to be considered is that of the aluminium support structure and the solar panels.

ICB's SolaBit
ICB SOLABIT IS A MARKET-LEADING LIGHTWEIGHT BITUMEN ROOF-MOUNTED SYSTEM. IT'S THE IDEAL SOLUTION FOR NEW AND RETROFIT SOLAR PV SYSTEMS INSTALLED ON BITUMEN FLAT ROOFS.
The system incorporates a polymer-bitumen membrane band designed to affix to the waterproofing cover layer and another band formulated with a specific mixture equipped with a double removable silicone film, ensuring sustained adherence and cohesion properties. Additionally, an aluminium profile is used for securing photovoltaic modules, featuring a surface that provides high adherence and resistance to uplift and a new structure with a central housing for accessory connection to the base support. A slated membrane band, complementing the fixing system and safeguarding the layers below from UV rays, is also integrated and is fitted with a removable silicone film on the lower side.
The system's main benefits are that it is lightweight, non-penetrative, low profile, and requires no costly/specialist material.

ICB's Solaply V
ICB SOLAPLY V BRINGS FORTH AN INNOVATIVE, SPECIALIST-BACKED VELCRO LOOP BAND PAIRED WITH A METICULOUSLY DESIGNED ALUMINIUM MOUNTING PROFILE, WHICH HOUSES AN EMBEDDED VELCRO HOOK BAND, SETTING A NEW STANDARD IN THE INDUSTRY.
Achieving installation is simplistic and durable; the loop band is expertly affixed by heating the membrane using hot air tools, mirroring the bonding process of single-ply membranes, and relying on molecular fusion to guarantee a perpetually robust bond. The mounting profile securely attaches with a mere place-and-press action, establishing a solid, rigorously tested bond that promises reliability and longevity.
This Velcro fixing technology redefines straightforward installations, offering a lightweight solution that maintains the integrity of the membrane through a non-penetrative approach. Exclusively available on projects designed by ICB Projects Ltd.